---
Feature
Cooling Capacity:
41,650 Kcal/h to 120,000
Acid/alkaline /corrosive
resistant design
For low heat capacity cooling
Economic closed circuit cooling system
---
PCT Series is economical, innovative closed circuit cooling towers transformed traditional open cooling towers to closed circuit cooling towers with abilities to overcome limescale problem. Furthermore, PCT has been granted with patents for heat exchange coil using PE material to maximize its heat dissipation area. There is no doubt that PCT Series can achieve high efficiency and lower capitalized costs.

---
Application
Plastic injection molding, blow molding machine
Low, medium and high-induction melting furnace
Forging
Air Compressor
Chiller
Cooling system for transferring hot water to cold water
Environment pollution lowers mechanical efficiency
Tube blocked by calcium carbonate (CaCo3)
---
Specification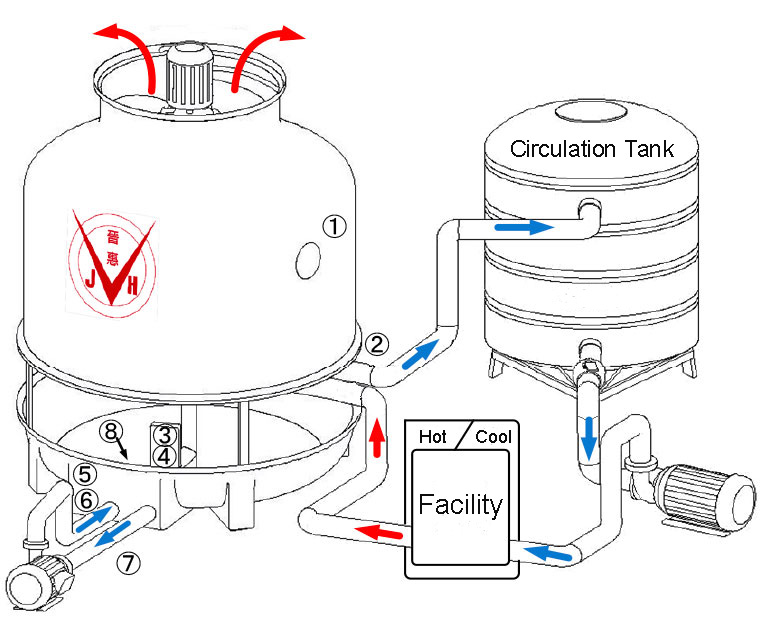 | | |
| --- | --- |
| Series No. | Item |
| ➀ | Inner survey window |
| ➁ | 1st. stage water inlet |
| ➂ | Quick water supply port |
| ➃ | Float water supply port |
| ➄ | overflow port |
| ➅ | Water outlet port |
| ➆ | 2nd. Stage water circulation |
| ➇ | Bottom discharge port |
Model
PCT-15
PCT-20
PCT-25
PCT-30
PCT-40
Cooling Capacity (38°C to 33°C Wet bulb 27°C)
40000
54600
68000
81900
109200
Fan Motor Type
Axial flow Low noise(10P)
Frame Material
F.R.P
Machine Base Material
F.R.P
Coil of heat exchanger
P.E tube Anti-acid & Antifreeze
cooing coil (D∅mm×m)
21 ×330
21 ×330
21 ×550
21 ×900
21 ×1100
The elctricity of outer pump  (HP)
1⁄2
1⁄2
1
1
2
Fan Electricity (HP)
1/4
1/2
3/4
1
1
Fan diameter (D∅mm×m)
670
670
770
770
970
Fan Volume ( m3/min)
135
180
160
200
260
Net Weight (kg)
125
140
180
220
280
Dimensions (D∅cm×Hcm)
1300×2200
1300×2200
1500×2200
1700×2400
1900×2500
PS: Cooling capacity is inlet temperature 38ºC ; wet bulb temperature 27ºC as condition.
The product is suitable for single or several machines assembled in parallel line.
Suggest that setting up the machine at the place with free flow of air.
---
Detail of Closed Circuit Cooling Tower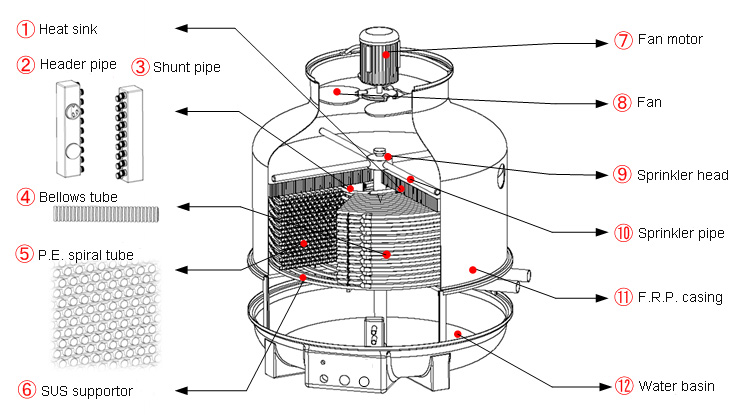 Innovative Design
Structure
②③④⑤closed circuit spiral circulationg system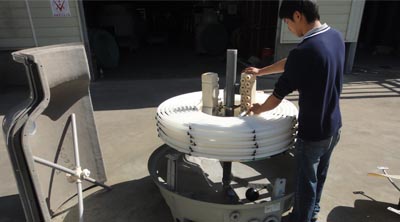 Collecting pipe and shut tube ②③ are made of ABS. Heat resource water is distributed into 18 layers of spriral entwine tue⑤ to perform cold/hot exchange. 18 layers cooling water flow to the plant to be cooled by collecting pipe③ , so it will be form a closed circuit spiral circulating system. Spiral entwine tube⑤ are made of PE material. It can endure high temperature and is anti-corossive. It will not have corrosive risk whether with alkaline-washing or acid-washing. Bellows tube④ increases the surface area 3 times with a patent design of tight spiral staggered. It is spacious. For tubes located outside, it will have effect of heat dissipation and increase efficiency of heat & cold exchange substantially.
①fills⑨⑩spin water distribution device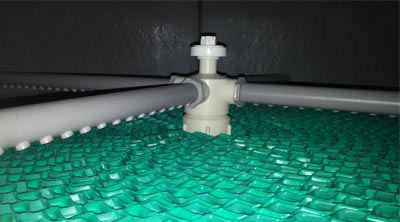 High performance P.V.C filler① are made with honeycomb style fill① The hard fabric with wrinkle and twill surface treatment will increase the layover time of water flow. It will have enough surface to touch air. It will increase effect of heat exchange. It willl distribute water to water holes and lower area evenly. Closed circuit spiral circulating system will perform the best. It will stop ultraviolet ray demage in the closed circuit spiral circulation system and enhance its usage. High performance auto spiral spiral water dissipation device, water distribution nozzel⑨ are made with plastic steel casting. Water tubes are made of PVC plastic with low water pressure, distribute water evenly, water saving and large exchange efficiency.
Heat Exchanger Coil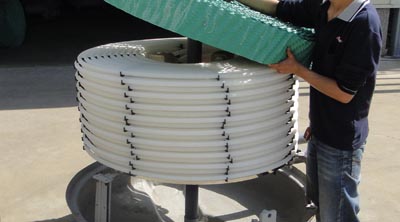 PCT's coil heat exchanger are made with PE tubes. It is anti-corrosive and anti-freeze with clean channel made for special cooling fluid.
⑦Motor⑧Fan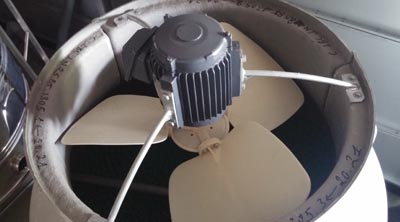 Fully enclosed outdoor 10P silent type motor ⑦, running low noise, long-term operation in harsh environments. Specially designed low-noise axial-flow multi-leaf fan ⑧, by the balance correction, running quietness, power-saving low noise, below PCT-30 uses of plastic steel and PCT-40 uses aluminum alloy casting.
⑥Support Base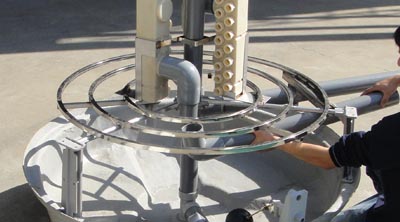 Base is assembled with stainless steel tubes. It is lightweight, high carrying capacity, non-corrosive and durable.
⑪⑫FRP Body & Water Basin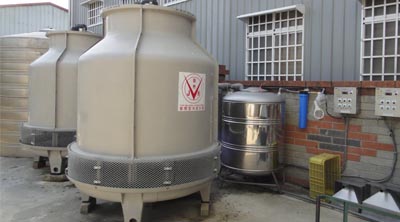 Body⑪ and store water basin⑫ are made with FRP. It is flexible and stretchable.
Pump & F.R.P Cover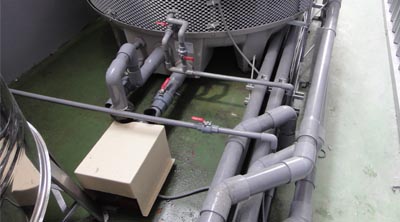 PCT with external circulator motor utilizes large flow rate circulator pump. In humid area, purchasing F.R.P waterproof cover is also a way to extend life span and reduce the potential for corrosion.
---
Layout For Closed Circuit Cooling Tower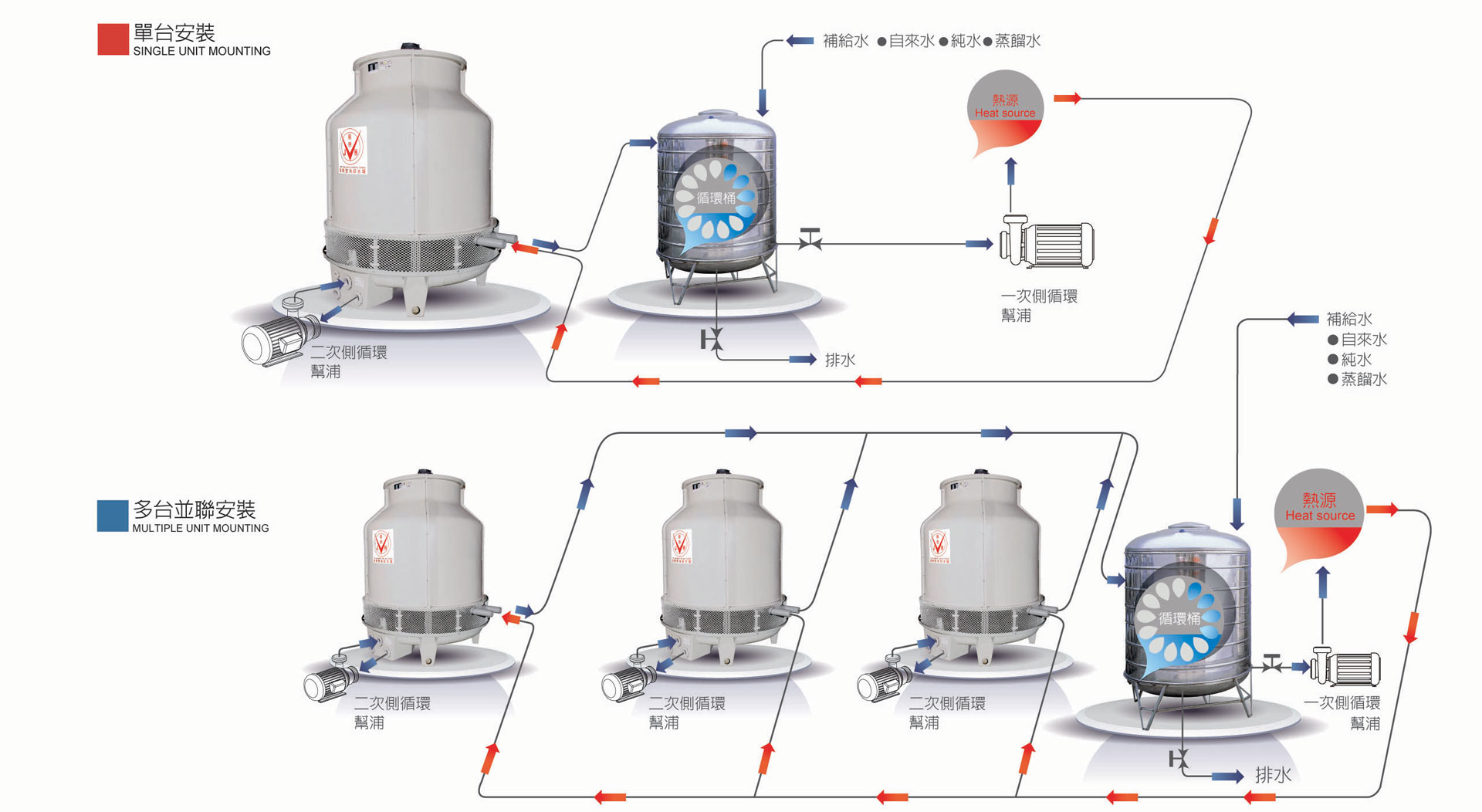 ---
Related
SCT-30 is a small and medium size stainless steel closed circuit cooling tower. It is suitable for a single unit machine cooling, such as high-induction melting furnace, water cooled compressor, industry chiller and more than one plastic injection machines.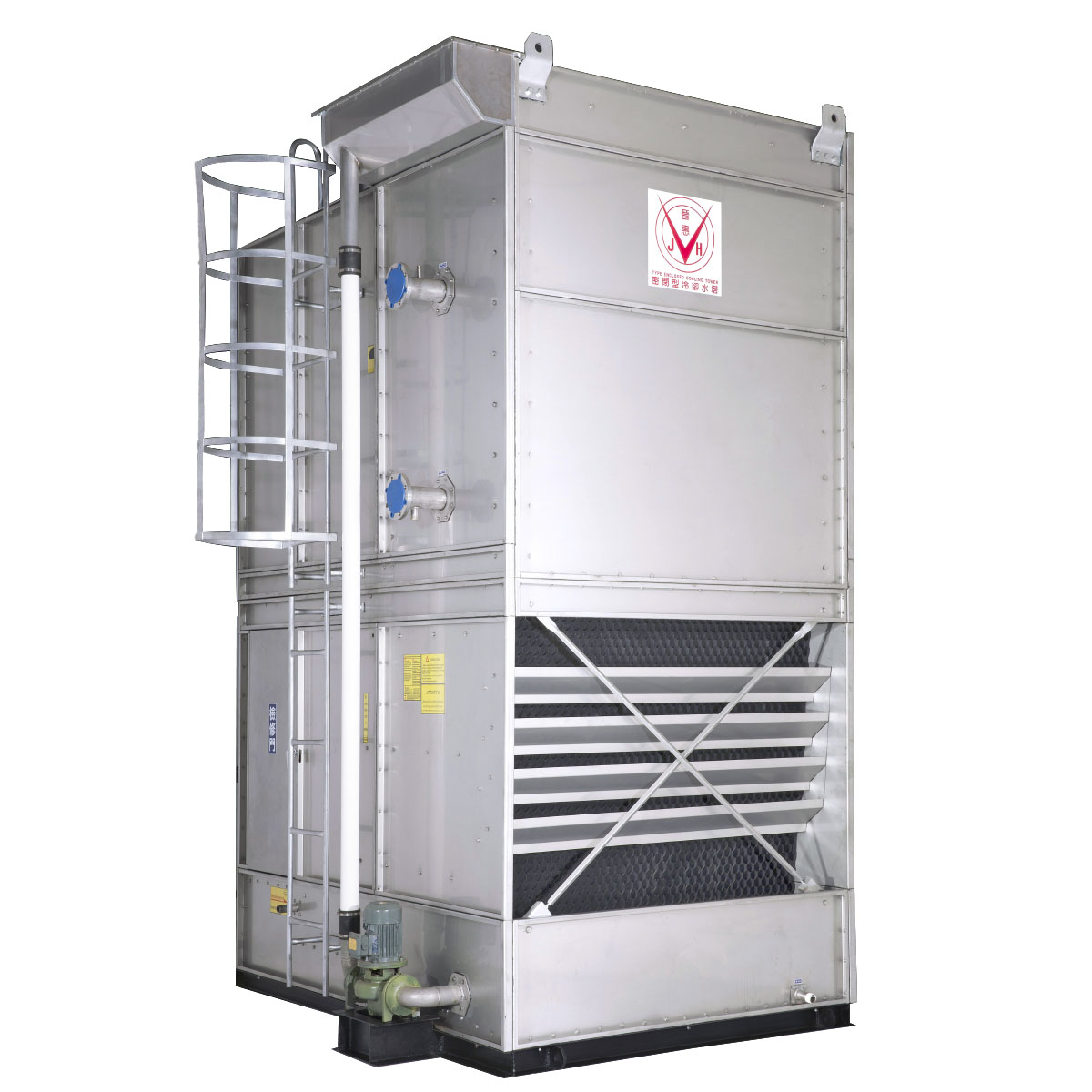 Closed circuit cooling tower are made with galvanize aluminium plate or #304 stainlesss steel with stainless steel heat exchanger and large maintenance space. The water and air are designed with the same inflow and effective heat dissipation.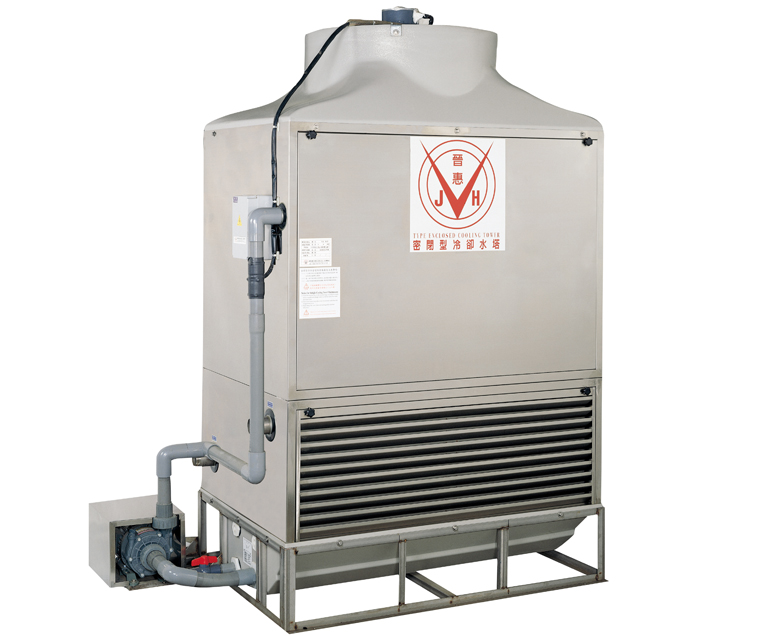 SCT series' shell is made from stainless steel and Mitsubishi copper tube. The materials are promised to be non-polluted and eco-friendly.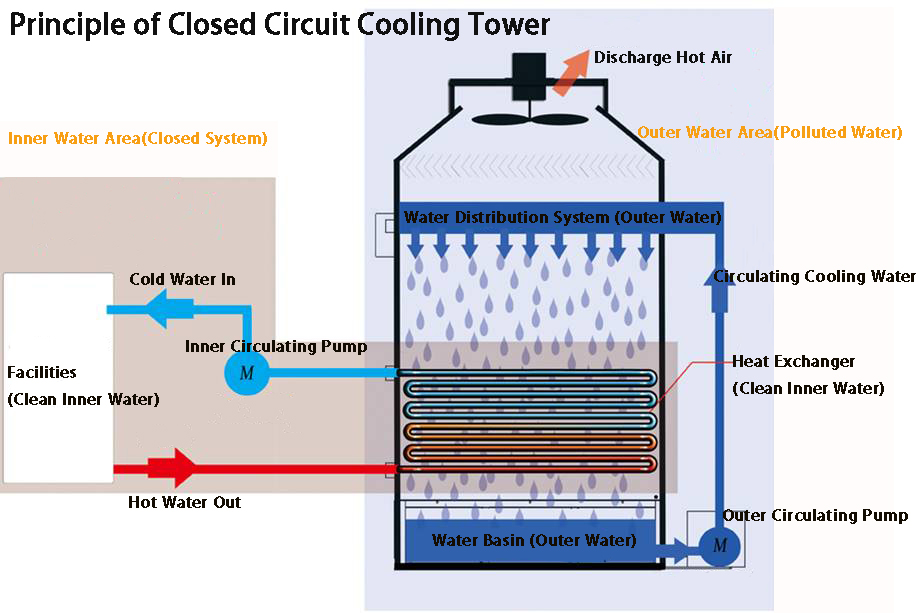 Welcome to know our technology. We are a professional manufacturer of cooling machine.