---
Feature
Cooling Capacity:
45,000 Kcal/h or 52.3 KW
Stainless Steel #304 Shell
Heat Exchanger Coil:
Mitsubishi Copper Tube
---
SCT-15 is a small closed circuit cooling tower with complete stainless steel and ABS environmental design. It is suitable for one-to-one equipment cooling or one-to-many small systems. In addition, Jin Hui closed circuit cooling tower utilizes separate fluid circuits (external/ internal) to make sure that your cooling water is always clean. There won't be direct contact between the air and the cooling fluid. SCT series is not only eco-friendly but also durable stainless structure designed for easy maintenance with no supplies.
---
Plastic injection molding, blow molding machine
Low, medium and high-induction melting furnace
Forging
Air Compressor
Chiller
Cooling facility for transferring hot water to cold water
Environment pollution lowers mechanical efficiency
Tube blocked by CaCo3 and dirty water(Relationship between cooling tower and CaCO3?)
---
Specification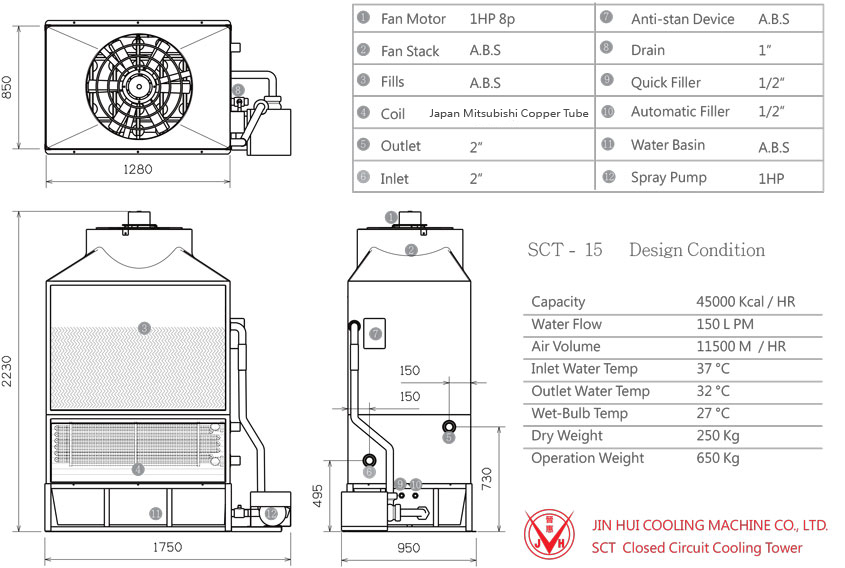 | | |
| --- | --- |
| Cooling Capacity (38°C to 33°C Wet bulb 27°C) | 45,000 Kcal/h 160 LPM |
| Fan Motor Type | Axial flow fan (8P low noise) |
| Fan Shell Material | Anti-UV& One piece fabricated (ABS material) |
| Shell Material | Material: Stainless steel #304  |
| Machine Base Material | Material: Stainless steel #304  |
| Electronic type anti-stain device | To decrease limescale attaching on copper tube |
| Water Basin Material | Anti-UV& One piece fabricated (ABS material) |
| Heat Exchanger Coil | Japan Mitsubishi Copper Tube |
| Fan Electricity | 0.75 KW x 8P |
| Fan Volume | 11500 m³/hr |
| Spray Pump Electricity | 0.75 KW |
| Net Weight | 250 KG |
| Dimensions (L*W*H cm) | 1750(L) x 950(W) x 2230(H) |
---
Details
Cooling fan stack & Motor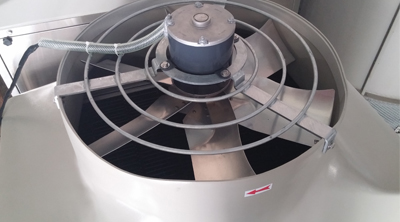 SCT-15 with low-sound fan motor and ABS one-piece fabricated fan stack not only lowers noise but also avoids vibration problem, as compared to traditional type.
Shell material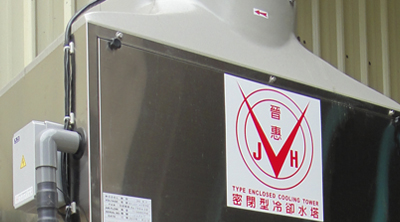 SCT-15 with stainless steel SUS304 structure adopts one-piece fabricated design is firm and great-looking!
Easy to dismount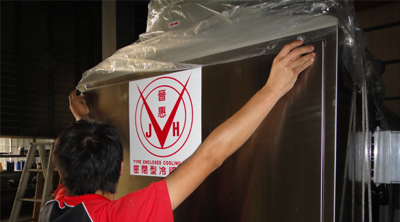 SCT-15 is an eco-friendly and sustainable closed circuit cooling tower with SUS304 shell and detachable design for simple maintenance to reduce labor and technical cost.
Heat exchange coil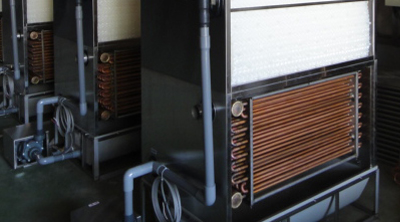 Heat exchange coil made of Japan Mitsubishi copper tube has high thermal conductivity and great ductility. It's suitable for small closed type cooling system to maximize heat exchange efficiency.
Fill & Water Distribution System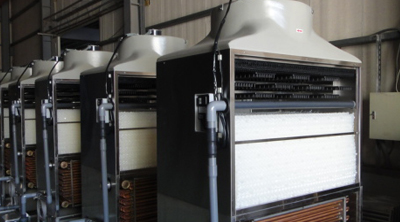 Sprinkler system with patented flap was attached on SCT-15. Moreover, ABS heat dissipation fill features high toughness, impact resistance, beat bearing and reusable.
Electronic Anti-stain Device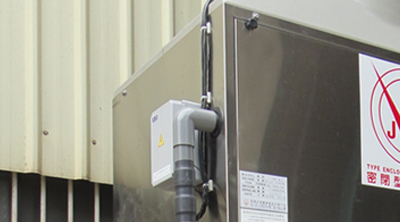 Under fixed concentration, SCT-15 with electronic anti-scale device lowers the potential of building up limescale on coil by separating ions.
Base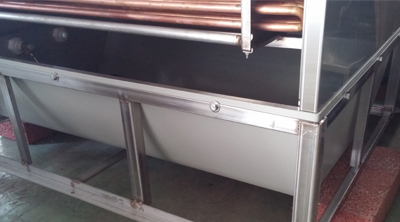 Base support that utilizes 2.6mm SUS #304 corner bracket is durable and firm to ensure working stability.
Water Basin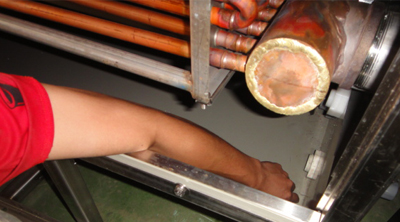 Water basin made by ABS one-piece fabricated mold distributes weight of cooling tower evenly. Furthermore, bevel face design of tower's bottom helps to get rid of dirty easily.
Pump & SUS #304 Cover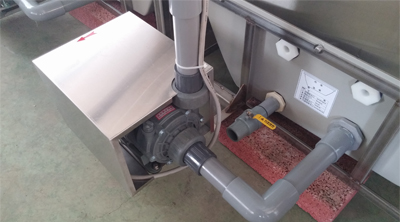 External circulator motor for SCT-15 takes advantage of high-flow circulator pump and SUS304 waterproof cover to reduce the potential of producing rust for staying outdoors.
---
Maintenance
Step1: Water Distribution Tube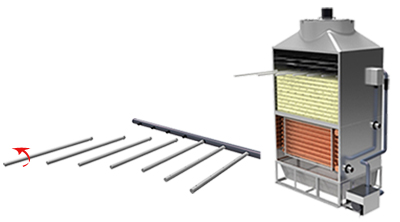 First, open the device case and turn down the sprinkler pipe 90∘counterclockwise for maintenance. After cleaning, put all the parts back and make sure the spray hole upward.
Step2: Fill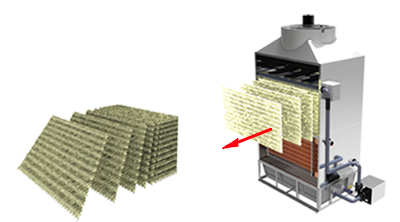 Fill under the sprinkler tube are piece by piece design. Take it out by screw driver and beat it to get rid of the dirt and scale deposits. Then put the fill back.
Step3: Heat Exchange Coil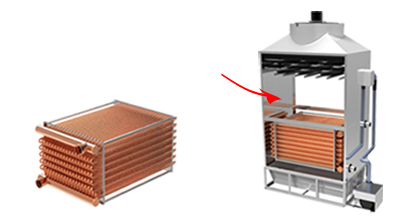 Open the intake louver underneath then use high pressure washer to rinse out the dirt and deposition attached on the coil. PS: When limescale problem occurs, please contact us for professional support.
Step4: Water Basin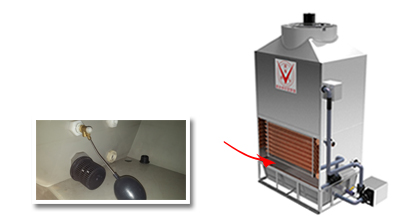 After finishing all cleaning steps above, there will be plenty of deposition, impurities and calcium carbonate in the water basin. Furthermore, to avoid contaminating the circulating system, make sure that water basin is clean before machine operates. PS: Regularly discharging external water of basin is helpful for reducing the increase of calcium ion concentration besides lowering 70% chance of forming limescale.
---
SCT-15 Closed Loop Cooling Tower Pipe Layout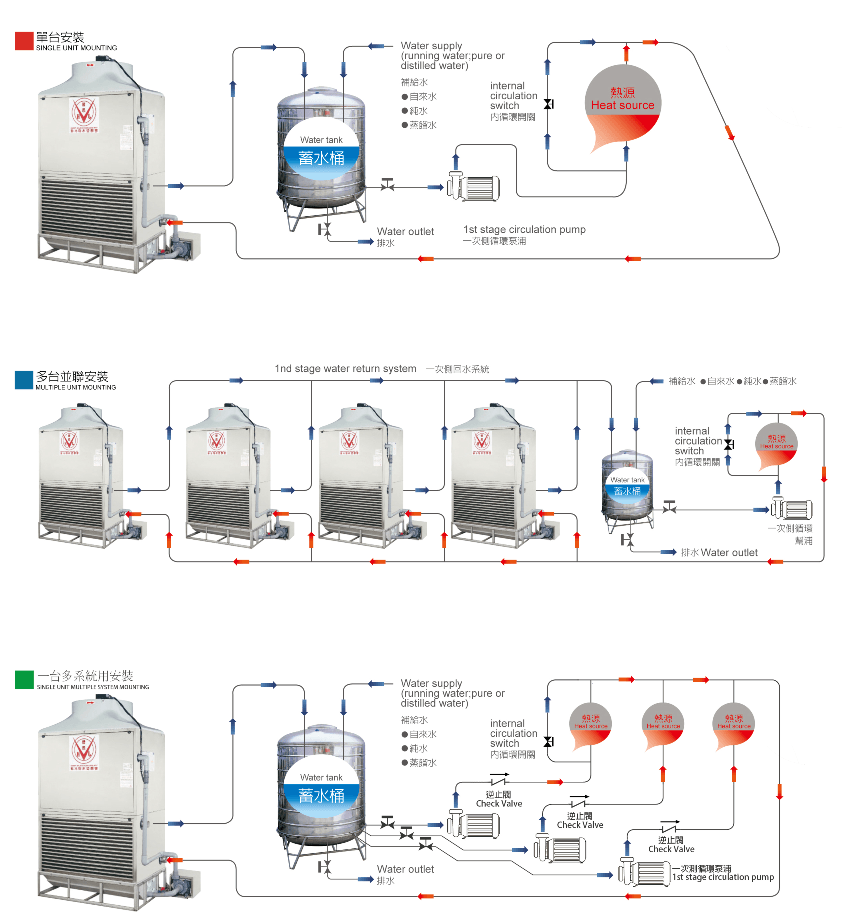 ---
Related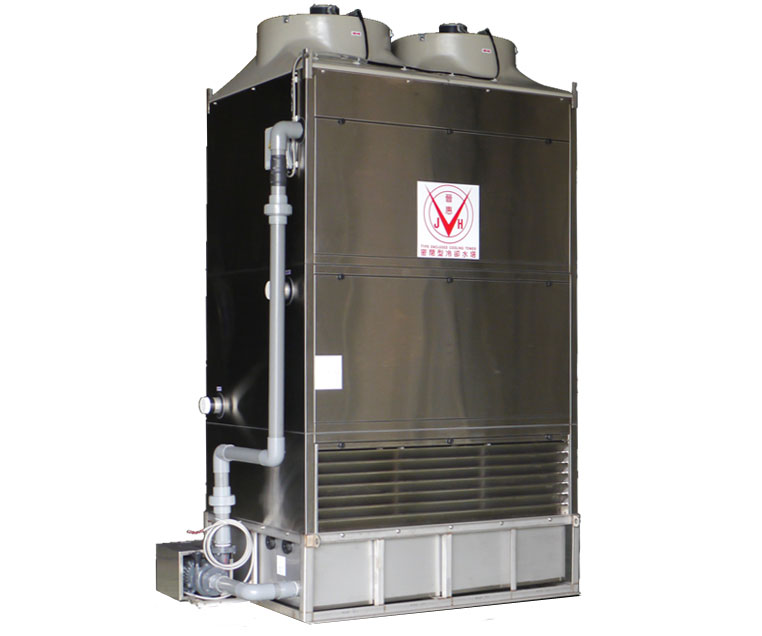 SCT-60 is a medium type or large type closed type stainless steel cooling tower in SCT series. Its function is cooling. It can be one cooling tower to one machine. At the same time, it can be used in medium plastic forming plant.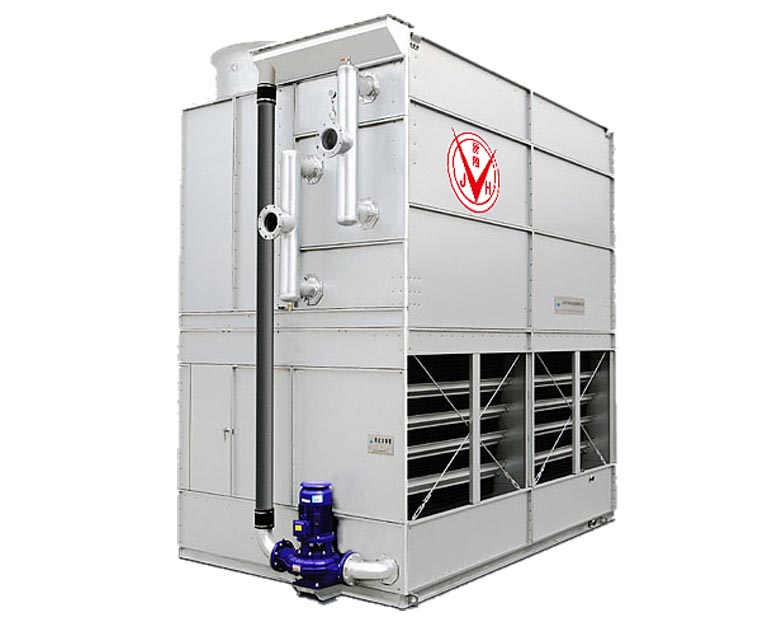 HCT-50-500 could be customized in super galvanize aluminize plate or # 304 stainless steel and adopt stainless steel heat exchanger. Fan & sprinkler in same direction design could avoid water spraying out.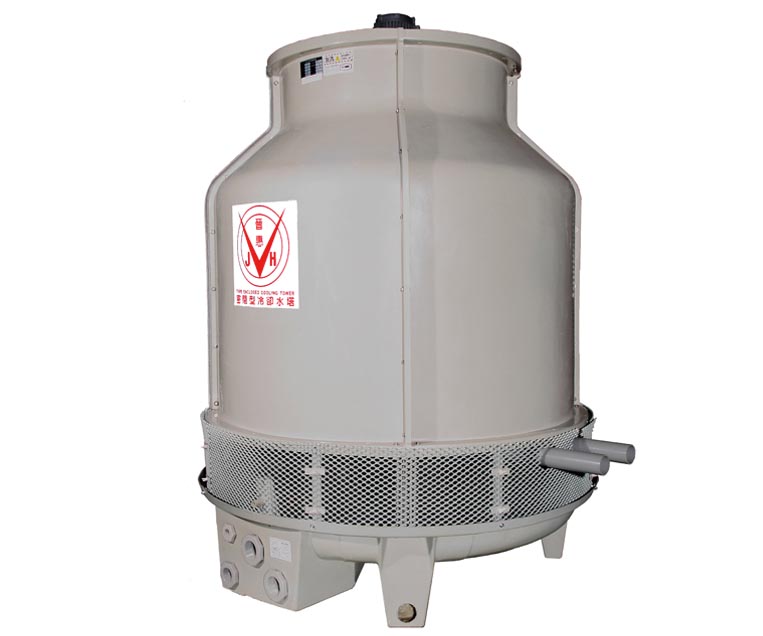 PCT-15-40 with PE coil design patent ensures cooling fluid clean and prevents acid corrosion. It is economic closed cooling system special for low thermal cooling.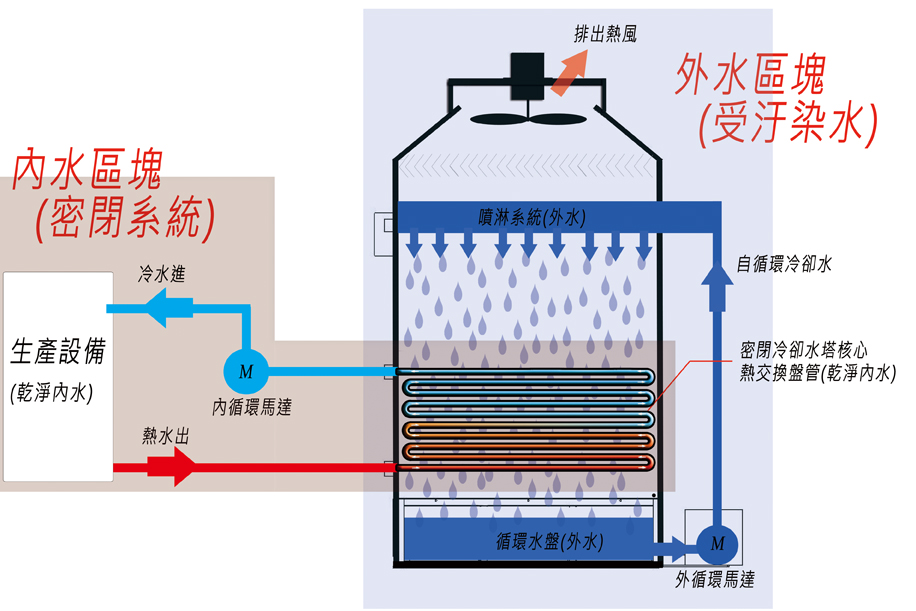 Welcome to know our technology. We are a professional cooling manufacturer.