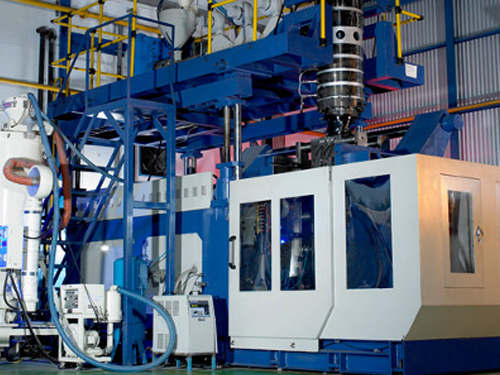 At first, Jin-Hui Industrial Corporation specialized in plastic blow molding from small medical jar to big vehicle parts. Besides, we are also good at manufacturing oil box for vehicles, motorcycles and farming products. These products are sold all over the world. In the experience period of designing closed circuit cooling tower, we also did industrial test by our own machine. Therefore, production and process cooling of plastic industries are our professional area.
In 1995, Jin-Hui invested in closed circuit cooling tower department and established Jin-Hui Cooling Machine Co., Ltd. We understand the requirement of peripheral equipment and mold types for blow molding industries. Especially for stable cooling temperature, it also decides the products' quality and stability. Cooling requirements include:
Mold cooling (Usually using ice water)
Water jacket/ Injection molding nozzle
Oil temperature cooling
---
Cooling for plastic blow molding
The requirement of blow molding products is usually unique, so that the most products almost go with the peripheral cooling system
Chillers
Mold temperature controller (Special condition)
Although plastic processing equipment are working toward to servo energy saving design, but blow molding cooling is relatively bigger in blow molding industries. The reason is that the material and molding method decides the cooling requirement of peripheral equipment.
---
Ice water system for plastic injection blow molding
A medium-sized injection blow machine need to go with a 7.5-10 tons (RT) chiller to cool mold. In addition, oil temperature cooling and water jacket/injection molding nozzle cooling are also needed. Usually, there are two different ways for most plastic factories design:
Cooling system

&

One ice water cooling system to one injection machine
Cooling system

&

One ice water cooling system to plenty injection machines
The first cooling system design requires going with several shell type heat exchangers of water-cooled chiller case, but this system produces lots of corrosion and limescale resulting in blockage on waterway.
The second design not only has the heat exchanger of ice water system but also has a big type ice water chiller. The speed of forming limescale and corrosion may cause in serious shutdown problem.
---
How does limescale affect the performance of plastic injection and blow molding?
In many countries, water is rich in minerals such as magnesium, Calcium Carbonate (CaCo3)…etc. No matter what source of water your equipment uses either tap water or ground water resulting in building up limescale. Another situation is that oxygen and atmospheric particulate matter get into the cooling water system of the blow molding machine and finally causes in:
Poor heat dissipation lead to poor efficiency of ice compressor
Mold heat transfer efficiency and production speed become lower
Overheated oil temperature contributes to oil leakage
Acid-washing result in cooler pipe fracture (How to clean heat exchanger of blow molding machine?
Therefore, more and more customers pursue stability in the production process. Then what is the primary point?
How do we overcome the shutdown problem caused by limescale?
How do we reduce maintenance times for cleaning heat exchangers?
---
How do we solve limescale issues on blow molding?
The method of overcoming limescale: add some medical agent or do water treatment to prevent from forming limescale. But impurities and limescale still continuously get into cooling system regardless of adding agent or setting up filter.
For months or years afterwards, the problem still exists. To effectively solve this problem, Jin Hui Industrial Corporation develop closed circuit cooling tower. Because we are known that the only way to ensure that the equipment is not able to be polluted by impurities. Separating cooling water for machines and for cooling tower is the best way to solve limescale problem.
The features of closed circuit cooling towers (Principle of closed circuit cooling tower?) are as follows:
Inner and outer water separation system won't contribute to the chiller or blow molding machine blockage
No necessity to maintain chiller and blow molding machine
Only need to clean closed circuit cooling tower and ensures stable cooling system
Non-stop production
Refer to the official website of closed circuit cooling towers (Series SCT) and know how to make your cooling system of blow molding machine stable. Meanwhile, you can tell us your requirements and let us offer the most suitable cooling tower equipment for you.