Closed Circuit Cooling Tower (without limescale)
The main difference between Closed Circuit Cooling Tower and traditional open cooling tower is heat exchanger coil. Heat exchanger coil separates outside impurities from the cooling water of equipment, making equipment's cooling water (ex: pure water or tap water) is always in closed circuit cooling system without limescale. Therefore, we call this closed circuit cooling tower (closed circuit cooling tower/ 3 in 1 cooling tower/ no limescale cooling tower)
---
Principle of closed circuit cooling tower:
Please refer to the picture below for operating principle. Jin Hui Closed Circuit Cooling Tower separates internal circuit (inner water) and external circuit (outer water) to prevent limescale entering equipment. The feature of Jin-Hui Closed Circuit Cooling Tower is heat exchanger coil inside. The heat exchanger divides cooling system into internal circuit and external circuit. Internal circuit is in a closed cooling system and supplies cooling water for equipment use; external circuit utilizes external circulating pump that sprays outer cooling water on heat exchanger, indirectly proceeds with cooling in internal circuit. Therefore, inner cooling water is always clean.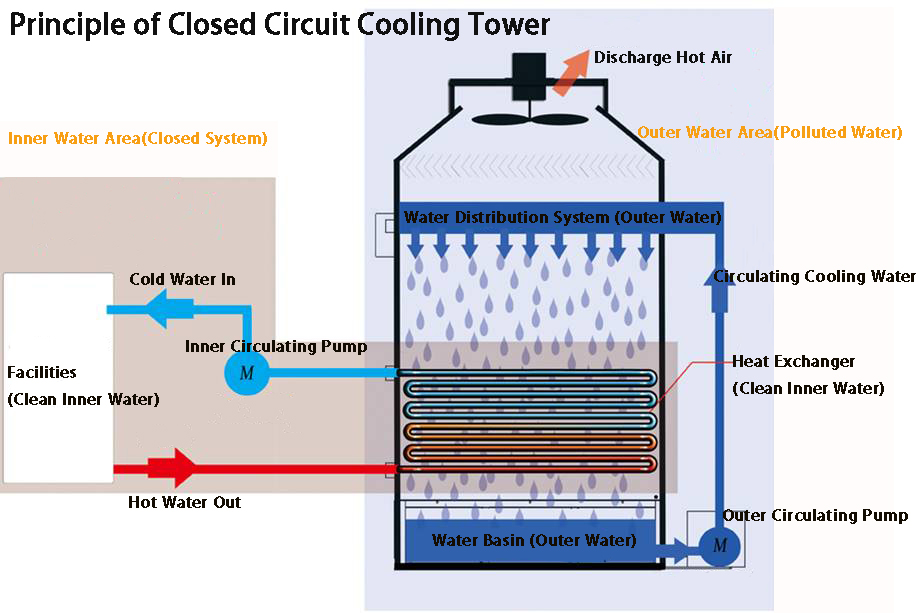 ---
Advantages of Jin-Hui Closed Circuit Cooling Tower:
It is inevitable that the growth of limscale under poor water quality and air pollution. How to avoid dust and CaCo3 blocked in equipment? Closed Circuit Cooling Tower will be your best choice.
Avoid cooling fluid (inner water) building up to limescale and polluted.
No blockage problems happens in water circuit system.
Decreasing the acid washing damage.
Reduce energy consumption caused by long-term operation machine halt
Lower maintenance cost
---
Benefits after using Jin-Hui closed circuit cooling tower:
No matter how many production equipment you have, or single equipment for mass production. There are many benefits after using Jin Hui Closed Circuit Cooling Tower:
No blockage caused by limescale.
Only need to take care of closed circuit cooling tower
Production equipment won't trip unexpectedly
Production equipment operates with high efficiency
---
Contact Jin Hui
Jin Hui Cooling Machine Co., Ltd has extensive experience in cooling and refrigerating system over 30 years. Our company manufacturing Closed Circuit Cooling Tower over 16 years, and we are the first manufacturer that produces closed circuit cooling tower in Taiwan. It is our commitment to help customers overcome limescale. Feel free to advise us with your requirement.
Email to us: This email address is being protected from spambots. You need JavaScript enabled to view it. or call us: +886-4-26937836. It's our honor to serve you.